Dr. Erica Sood is the first psychologist to receive the Newburger-Bellinger Cardiac Neurodevelopmental Award.
In the coming weeks, former ACCEL grant awardee Erica Sood, PhD, will be internationally recognized and awarded for her career accomplishments and research focused on understanding and improving neurodevelopmental and psychosocial outcomes following a diagnosis of congenital heart disease (CHD).
Dr. Sood is the first psychologist to receive the international Newburger-Bellinger Cardiac Neurodevelopmental Award. The award was established in 2013 by the Cardiac Neurodevelopmental Outcome Collaborative (CNOC) to recognize someone who has made significant contributions to clinical care, research, teaching, or community advocacy leading to improvements in the neurodevelopmental outcomes of children with heart disease.
The award will be presented at the 10th Annual Scientific Sessions Sessions of the Cardiac Neurodevelopmental Outcome Collaborative scheduled November 17-19. The CNOC is a not-for-profit organization established to determine and implement best practices of neurodevelopmental and psychosocial services for individuals with pediatric and congenital heart disease and their families through clinical, quality improvement, and research initiatives.
10th Annual Scientific Sessions of the CNOC

The Annual Scientific Sessions of the Cardiac Neurodevelopmental Outcome Collaborative is an interdisciplinary conference for all providers involved in the care of children and young adults with congenital heart disease, including cardiologists, psychologists, neurologists, nurses, therapists, educators and families.

This year's conference will be held virtually Wednesday, November 17 – Friday, November 19. A preconference Workshop will be held November 16 supported by Seattle Children's Hospital.

The 2021 Newburger-Bellinger Award will be presented to Dr. Sood on Wednesday, November 17 at 6:45 p.m. followed by Dr. Sood's Newburger-Bellinger address and discussion.

MORE INFORMATION | REGISTER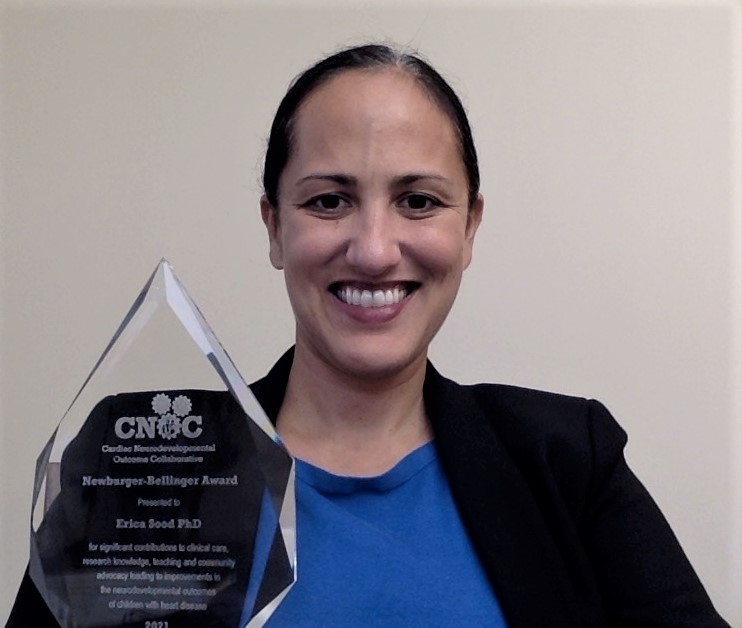 "My colleagues all got on the phone together and called me to tell me about the award." Dr. Sood said, adding, "I was shaking when I got the call. It was quite an honor."
Dr. Sood is a pediatric psychologist in the Nemours Cardiac Center and Center for Healthcare Delivery Science at Nemours Children's Hospital, Delaware and Associate Professor of Pediatrics at Thomas Jefferson University. She directs the Nemours Cardiac Learning and Early Development (LEAD) Program and trains psychology fellows in the specialty area of cardiac neurodevelopment. Additionally, Dr. Sood is an Immediate Past Chair of CNOC, Fellow of Division 54 (Society of Pediatric Psychology) of the American Psychological Association, and an advisor to the patient/family advocacy organizations Conquering CHD and Mended Little Hearts.
Dr. Sood said, "It's a huge honor and I'm excited to be the first psychologist to receive this award. I think that's really meaningful." She added that previously, the award had primarily been given to physicians.
The award will be presented to Dr. Sood during the CNOC's 10th Annual Scientific Sessions.
As a clinician looking to initiate a program of research, Dr. Sood sought the Mentored Research Development Award (MRDA) from ACCEL in 2014 and 2015 to aid her preparation of highly competitive grant proposals. ACCEL's MRDA pairs a junior investigator with a mentor and grants the investigator access to ACCEL's extensive resources including grant writing workshops, peer mentoring groups, review sessions, and study design consultations.
Under the MRDA, Dr. Sood worked closely with her research mentor, Anne Kazak, PhD, ABPP. She also was paired with collaborator Allison Karpyn, PhD, Co-Director of the Center for Research in Education and Social Policy (CRESP) and Associate Professor of Human Development and Family Sciences at the University of Delaware.
"Allison basically taught me everything I know about qualitative research, and that was another connection that was made through ACCEL," Dr. Sood explained. "And I continue to work with her on research to this day."
Following her developmental work under the MRDAs, Dr. Sood received a grant from the Mend a Heart Foundation in late 2015 to perform a qualitative study to understand the psychosocial needs and experiences of parents of children with congenital heart disease, and how that diagnosis affects the family unit.
This study led to an ACCEL Pilot Grant award in 2017 which expanded the qualitative study to work with parents across the U.S., including 108 parents across 45 hospitals.
The pilot project furthered the investigation into the types of care that need to be provided to better support families and promote child and family wellbeing. As part of this study, Dr. Sood partnered with parent stakeholders who served as study team members to help make decisions about recruitment, data collection, and how to interpret the data. Afterwards, Dr. Sood published a series of papers focusing on parents' experiences in different aspects of their child's care and recommendations to improve family outcomes.
Eventually, Dr. Sood was selected for the PEDSnet Scholars Mentored Career Development (K12) Program, funded by the Agency for Healthcare Research and Quality and Patient-Centered Outcomes Research Institute. During her time in this program, she designed HEARTPrep, a virtually delivered prenatal psychosocial intervention for mothers expecting a baby with congenital heart disease.
Currently, Dr. Sood is piloting HEARTPrep at Nemours Children's Hospital, Delaware, to determine the intervention's feasibility and acceptability. Next, she and the research team will investigate whether parent and family outcomes improve because of HEARTPrep.
If HEARTPrep works as intended, Dr. Sood hopes to implement this program across many pediatric hospitals.
"ACCEL has been a big part of my career," Dr. Sood said. "My research is where it is because of ACCEL – it really set me on my research trajectory."