This year's ACCEL Community Research Exchange demonstrated how Delaware's health industry is reaching into Delaware's diverse communities and focusing on equitable care and spread of information, specifically in the wake of COVID-19.
The theme of this year's research exchange was "where community and science converge," and it could not have been more evident from the research reports to the panel discussion to the keynote speaker's presentation.
"The Delaware ACCEL Program has found that the partnerships are really key in addressing the healthcare inequities and trying to pull together the right partners around to have discussions and trying to close some of the gaps that may be between community and the healthcare system," panelist participant La Vaida Owens-White, a registered nurse and coordinator for the Delaware Region Health Ministries Network, said.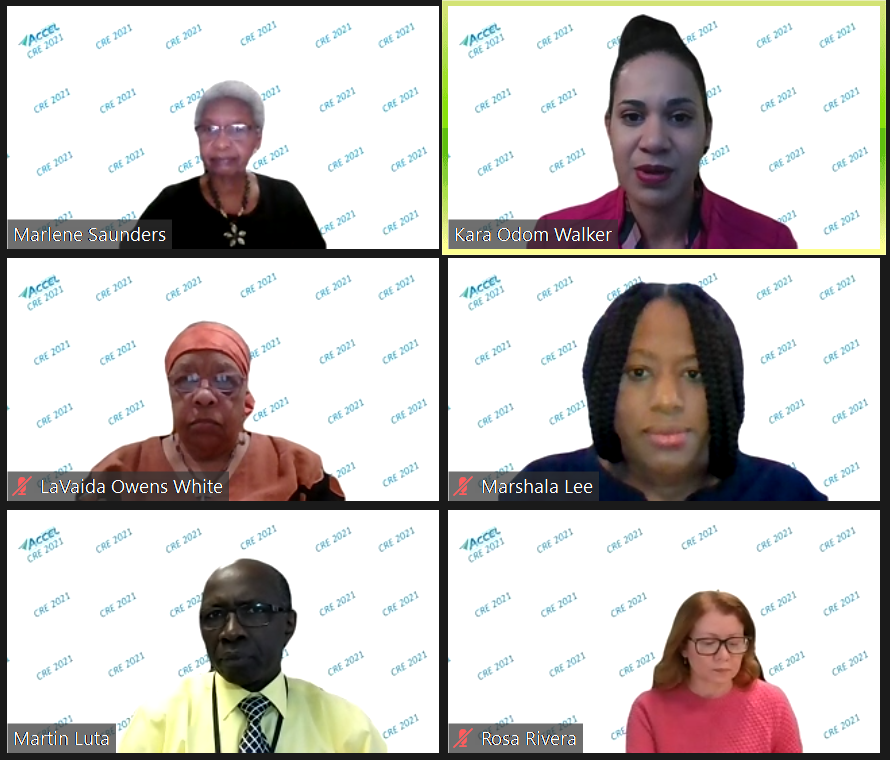 Keynote speaker Dr. Daniel Salmon, professor and director for the Institute of Vaccine Safety with the Johns Hopkins University Bloomberg School of Public Health, shared how his recent community conversations about COVID-19 and vaccination could inform the way Delaware healthcare can reach and better understand the local communities.
Salmon explained how his team rapidly developed and implemented two waves of surveys coinciding the COVID-19 vaccination approval processes as well as administration of the first vaccine doses.
"Within a week we had all of these data analyzed and implementation considerations for local public health," he explained. "Our goal is to inform local public health so they can take actions to meet the community needs and this just requires things to be really, really rapid."
While Salmon's conclusions were not specific to Delaware, he had broad applications the health industry should consider to deal with COVID-19 vaccine hesitancy and questions.
"Good science takes time, whereas anecdotes, sensationalism and bad science travel quickly, and it's very hard to change someone's mind," Salmon said. "The moment is now. We have the opportunity for vaccines and public health to turn the tide on the pandemic. They could have a tremendous impact on COVID-19. They can demonstrate the value of vaccines, the power of public health and the science and institutions that can make a difference. So we need to get this right. We need to get this right for COVID and we need to get this right for the future credibility and success of public health and science."
Four ACCEL Program COVID-19 Rapid Science Grant awardees presented their initial research findings during the 2021 Community Research Exchange.

Dr. Anne E. Kazak used the COVID-19 Rapid Science Grant to develop a caregiver-report measure to understand the extent to which children and families were exposed to COVID-19 and their perceptions of its impact, known as the COVID-19 Exposure and Family Impact Scales (CEFIS) that would benefit pediatric healthcare.

Drs. Thao-Ly Tam Phan and Paul Enlow utilized the grant to conduct a study to learn more about how the pandemic has affected families in Delaware, including emotional health and attending doctor visits, to provide better mental and physical healthcare to children and families in Delaware during the continuing pandemic.

ChristianaCare Research Assistant Madeline Brooks and Dr. Vishal Patel presented their analysis of geographic distribution and its relationship to determinants of health care inequity in Delaware. Given the increases use of telemedicine during the pandemic, this data can potentially be used by public health organizations, clinicians, and health care administrators to increase access and inform health policy.

Dr. David S. Tulsky demonstrated the existing self-management system, iManage, used for the needs of those with spinal cord injuries to monitor anxiety and depression symptoms and subsequently choose which interventions may be most effective in helping to alleviate those symptoms. With the COVID-19 Rapid Science Grant, Tulsky and his collaborating awardees, are adapting the pre-existing iManage system to better reflect the needs of the general population and increasing prevalence of loneliness and isolation due to COVID-19.

"This truly shows how the CTR can really jumpstart very, very important work in a short period of time."

Dr. Lee Pachter, conference co-chair and senior physician scientist director of mentorship and professional development at the value institute at ChristianaCare
This year's conference included a robust panel discussion on COVID-19 impacts and priorities for Delaware communities and tackling health equity in the midst of the pandemic. Panelists included Dr. Martin Luta, chief of the Bureau of Communicable Diseases with the Delaware Division of Public Health; Dr. Marshala R. Lee, a physician in family medicine at ChristianaCare; Rosa Rivera, chief operations officer at La Red Health Center; Owens-White; and, moderator Dr. Kara Walker, senior vice president and chief population health officer for Nemours Children's Health System.
Noting the disparities in COVID-19 responses among community members, but also adding to that existing strain on society the social unrest regarding racism in America, Lee said, "I'm thankful for using this time to reflect, but not only reflect, but make significant changes in not only how we are partnering with our communities but working to become an integral part of our communities, ensuring our communities don't only come to us when it's time for sick care, but that we're there for them for well-care as well as assisting them with addressing the social determinants of health, because we know that we're only as strong as the sickest person in our community is. I think we're all now identifying our role has to be a continuous partner."
In his closing remarks, Dr. LeRoi Hicks with ChristianaCare and an ACCEL Scholar, said the research exchange was "remarkable."
"Today is a perfect demonstration of why the Delaware CTR ACCEL Program is awesome," he said. "The community engagement core and the work that's being done here by the CRE is really the best part."
But, while praising the CTR and all the work presented during the Community Research Exchange, he noted there is still health care inequity.
"As you've heard today from our numerous panelists, and many of our excellent speakers and those who are participating in the chats, equity has not been achieved," Hicks said. "But our goal, and the goal of the Delaware CTR ACCEL program is to bridge the gap between the kind of work that's being done and having the implementation of programs to improve health and wellbeing, quality of life, functional status, longevity, in the communities we serve, to do so in a tangible way and to do so in an equitable way, and to do so with a rapid speed that hasn't existed before.
"And it's really through the work of individuals who seek funding, work toward these projects, engage with the community – not only in terms of being respondents in the study but as true partners from the very conception of ideas – it's through those mechanisms, through any kind of work that's being done within the CRE that will ultimately accomplish that goal: Translating what is done in research into an impact on human health and wellbeing in an equitable fashion."
For more information on this year's co-chairs for the ACCEL Community Research Exchange
Omar Khan, MD, MHS, FAAP, President and CEO of Delaware Health Sciences Alliance, and Physician Leader in Research Admin and Scientific Affairs with ChristianaCare.
Lee Pachter, DO, Senior Physician Scientist with ChristianaCare, and Professor of Pediatrics and Pop Health at Thomas Jefferson University
Marlene Saunders, DSW, MSWS, LMSW, social worker, educator, administrator, elected official, and Delaware Community Advisory Council Chairperson