Hybrid attendance is available for the meeting which will be held Thursday, May 26 from 6:00 p.m. – 9:00 p.m.
Register
When registering, you may choose whether you will attend the meeting in-person at the Dupont Country Club, or virtually via Zoom.
Members $60 per person
Non-Members $85 per person
Students $20 per person
Keynote Address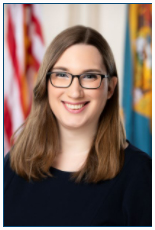 Senator McBride is the first openly transgender person elected to a state senate in the US, an author, a former spokesperson for the Human Rights Campaign, and an emerging advocate for public health legislation. Raised in Wilmington in the First Senate District, she graduated from Cab Calloway School of the Arts and American University. She has been involved in community advocacy for most of her life, including working for former Governor Jack Markell, the late Attorney General Beau Biden, and as a White House intern during the Obama Administration. For her work and advocacy, former Gov. Markell awarded McBride the Order of the First State, making her one of the youngest Delawareans granted the state's highest civilian honor. McBride was elected in November 2020, succeeding former state Senator Harris B. McDowell III.
She currently serves as chair of the Senate Health & Social Services Committee and is a member of the Senate Housing Committee, Senate Corrections & Public Safety Committee, Senate Judiciary Committee, Senate Veterans Affairs Committee, and the Joint Legislative Oversight and Sunset Committee.
Agenda
6:00 – 6:45 p.m.
Reception
6:55 – 7:30 p.m.
Dinner
7:30 – 8:00 p.m.
Business Meeting

Lewis B. Flinn President's Award: This year, we recognize Verna Wilkins-Hensley from Easterseals Delaware and Maryland's Eastern Shore for her career spanning work with persons with Intellectual and Development Disabilities.

Executive Director's Public Health – The A-Team Delaware is being honored for their steadfast work with, and devotion to, the needs of persons with Intellectual and Development Disabilities Award.
8:00 – 9:00 p.m.
Keynote Speaker: Delaware Senator Sarah McBride